MyCurrency feature number 15: smart coupons
Would using coupons be profitable for your business? The answer is yes. Now, more than ever.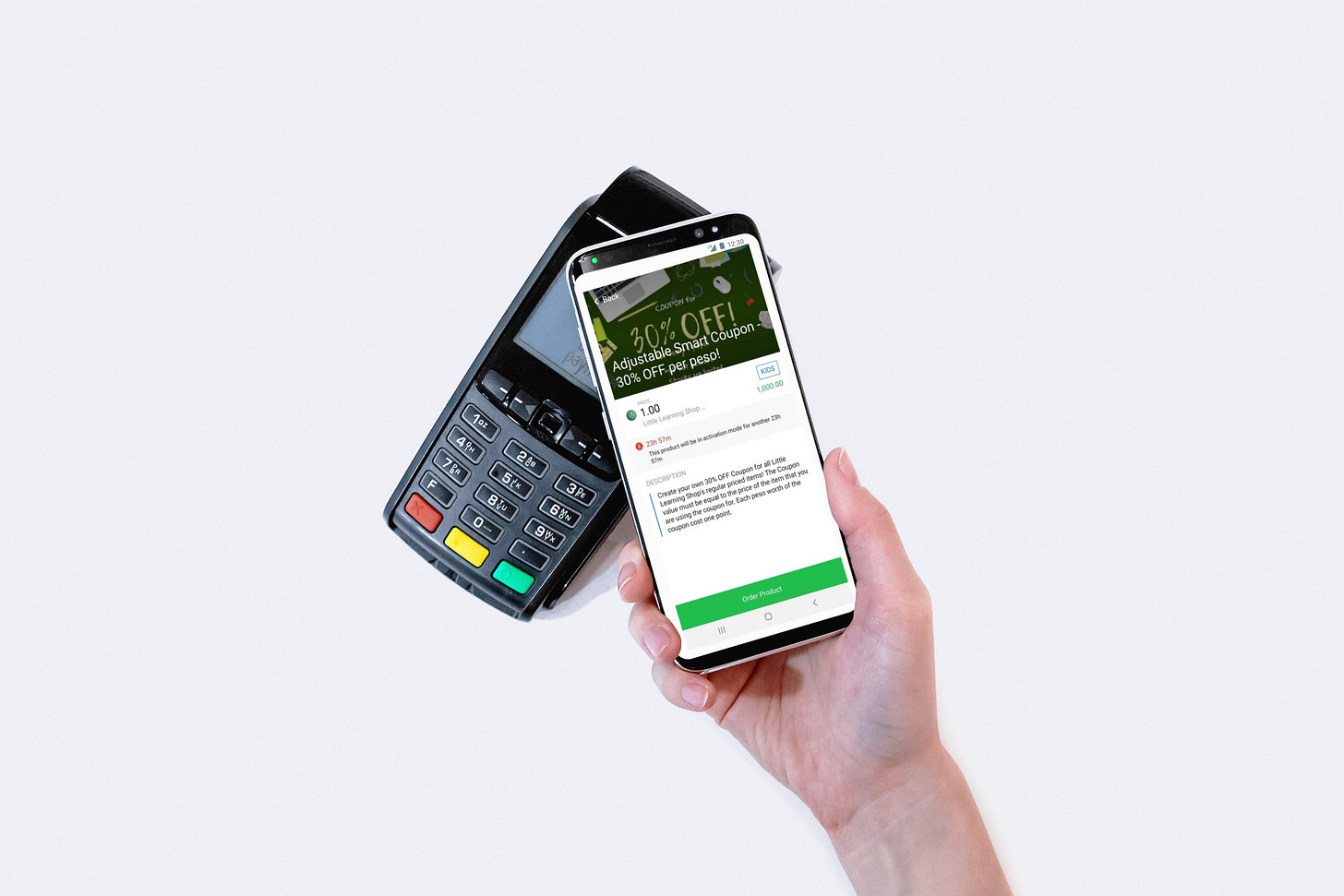 Let's run through all of the features of MyCurrency and its free Android/iOS app:
one-click currency creation for individuals and businesses - you'll literally have your first currency 15 seconds after you've installed the MyCurrency app

adjustable burn rate for your currency, to let you discourage its hoarding - but it's totally optional: if you don't want to deal with the complexity, just skip the burn rate!

one-click store creation, to give each currency one or more linked stores

one-click product creation, to let each store have a catalog of products priced in its linked currency

automatic voucher issuance to customers spending your currency - 30 seconds after installing the app, you'll be ready to accept customer purchases!

automated voucher redemption by MyCurrency merchants through both QR Code and text code reader on mobile app - 30 seconds after installing the app, you'll be ready to process customer purchases!

ability to transfer currencies to other users for free - after installing the app, it takes just three taps to do a transfer!

public and private accounts for your currencies to enable both trading and privacy-protected holding - this is shown by default, so no need to fiddle with complicated options!

ability to offer other users currency trades, including currencies you received from other users - from the landing page, just a couple taps, and your offer to another user is created and sent!

publicly accessible list of users with public holdings of each currency, letting you know who you can offer to make trades with - the link is visible under every currency!

Craigslist integration - Any Craigslist post that advertises an offer related to your currency can be made automatically viewable to all MyCurrency app users - just copy the Craigslist URL, paste it in the input field in the Listing tab, tap 'Publish listing', and voila, the CL link is visible to all MyCurrency users!

globally accessible app giving MyCurrency users a global base of potential users

full MyCurrency API allowing easy integration of third party applications into the MyCurrency platform
And another cool feature of MyCurrency - number 15 if you're counting: Smart Coupons.
With the worldwide pandemic ravaging the economy leaving a lot of consumers with less cash, customers would appreciate saving on anything they purchase, so they would appreciate coupons.
But how would coupons help you, as a business owner?

Using coupons has been proven very effective at getting new customers to step into a store and explore what else the store has to offer. It encourages previous customers you lost to come back and become 'repeat' customers again. It gets your loyal customers to try out new products you're introducing. Maybe also gets products that have been idle in the inventory for a while to start selling.
MyCurrency has taken it a step further; ahead of all the coupon software on the market at the moment. MyCurrency gives you an option to create just one coupon that your customer can then customize to use for any of your products.

This is how it works:
MyCurrency enables flexible product and order creation, which together lets you create a discount voucher that acts as a smart 'adjustable coupon'. All that's required is that you create a product in your MyCurrency store which is advertised as making your currency units redeemable for a discount on one dollar/euro/peso worth of your products.

For example: if your customer has accumulated 2,000 of your currency points, and wants to purchase a 2 hour consultation from your business for $300, they can use 300 of your points to purchase a 30% discount coupon for the $300 consultation.

All the customer has to do is put '300' in the quantity field when purchasing the digital discount card using the MyCurrency app, and that amount of points is deducted from their currency balance. They therefore control how many points they use, and how big of a purchase they receive a discount on.

This means your store only needs one general coupon, and customers can spend just the number of points that they need for the product price that they want to receive a discount on.

This is far more graceful and easy-to-use than having to create several fixed sum coupons to cover products in different price ranges. The added convenience of using your coupons means customers are more likely to come back to your store than stores that use old-fashion coupons.
Here are some screenshots of what this would look like from your customer's perspective when they want to create a discount card for a $25 service: