With MyCurrency, it is now possible to donate Loyalty Points during calamities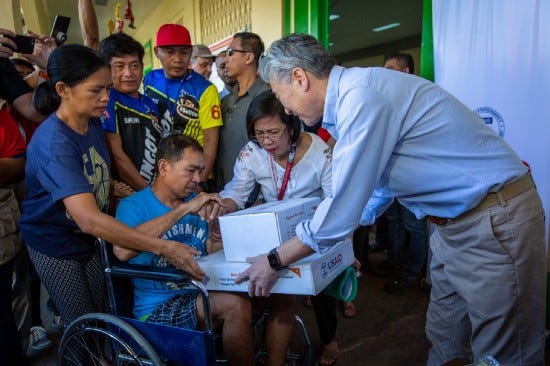 Aid being given to victims of Taal Volcano Eruption (US Embassy Philippines)
MyCurrency opens up an entirely new way to provide charity.
During disasters, almost everyone wants to help, but many simply don't have the financial resources to do so. One thing that a lot of people have is spare loyalty points. MyCurrency users have the ability to transfer their loyalty points, so for the first time ever, people can donate their loyalty points to those in need.
Points currently sitting dormant in loyalty cards can suddenly be useful as a source of funds for donations. How big is this source? Hundreds of millions of people currently have loyalty points in their wallet that they're not even using. If they were able to donate them, and help people without breaking the bank, many of them would take advantage of that, especially during disasters when they see a great need.
This can be taken a step further, if charitable organizations would accept loyalty points as donations. Simply put, by turning loyalty points into transferable currency, MyCurrency can enable our society to get around the current shortage of funding that results from our total dependency on the quantity of money in people's pockets.